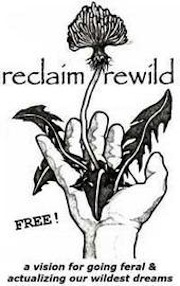 Once again, the time for Wild Roots Feral Futures is almost here! We just wanted to throw out a few updates & reminders, so here goes...
Important posts:
•
Ride share!
•
Street Medic/ine Training
•
Street Medic/ine Training Registration
•
Decolonizing Wild Roots Feral Futures
•
Initial WRFF 2013 call/announcement
Site location, seed camp, etc.
The site location for Wild Roots Feral Futures will be announced on the coming New Moon, on Saturday June 8th at the latest, so stay tuned!
At that point, seed camp (set-up) technically begins, and folks are welcome to head out to the site and start setting up. Wanna dig latrines? There's lots of work to be done! Local organizers will be on site to help facilitate. There is minimal support housing in Durango, as well as many local camping spots, so please
email us
if you are arriving early and need assistance.
Accessibility
The WRFF organizers' collective recognizes the dynamics of accessibility and ableism as a form of societal oppression in our culture, and strive to select sites with maximum accessibility, considering the context of an event located in forest and wilderness areas. Due to natural circumstances and the lay of the land (rocky trails on steep hills, etc.), ableism and "disability" may hinder accessibility for some to the inner reaches of the gathering. This is a reality of the natural world that is beyond our ability or desire to alter or control. We will, however, make very effort to help folks of differing abilities get their gear and themselves into the woods. Please
contact us or ask an event organizers if you or someone in your group needs assistance hauling gear, etc. Together as a community we're able to do anything!
Workshops, skill shares, activities, etc.
We would like to issue one final call for workshops, skill shares, presentations, discussions, etc. If you have a workshop you would like listed ahead of time, please
email us
or
post on our forums
. We are particularly requesting trainings in direct action, blockades, etc. Other planned activities include
tree climb trainings
,
discussions on patriarchy & consent
,
blacksmithing
, plant walks, wild food & medicine foraging, tactical war games (capture the flag, etc.) star gazing, direct action trainings, earth skills trainings, a
street/action medic/ine training
, a
reading group on critiques of anarchist accountability processes
,
writing letters to political prisoners
, a
radical puppet show
, hiking, swimming,
yoga
, and much more!
Musicians, bands, etc.
WRFF 2013 is seeking acoustic musicians, performing artists, storytellers, etc., to join us and share your muse! If you have an act, band, or musical performance you would like listed ahead of time, please
email us
or
post on our forums
.
Kitchen
Once again,
Durango Food Not Bombs
will be facilitating WRFF's free communal
kitchen
.
We are requesting support from other FNB chapters & revolutionary food networks, and are asking WRFF participants to bring any donations of food, herbs, spices, coffee, tea, sweeteners, etc., as well as kitchen gear (large pots & pans, spatulas, ladles, etc.). Got something you'd like to see served at the kitchen in the woods? Let's make it happen! We'll be collecting monetary donations throughout the event for food runs to town. Please dumpster on your way here, and contact us for local dumpster diving tips! Also, please let the kitchen know about any food restrictions, allergies, etc.
Medical
We have an amazing
medic
team forming, and are requesting WRFF participants bring first aid supplies, to be donated to the medic clinic/team. Please also check in with the medic team about any medical conditions we should be aware of.
Welcoming & Guard/Security
For everyone's safety, we will be forming stationary and roving voluntary guard details, working in 3 or 4 hour shifts (which we'll decide together on the ground, in the woods), 24 hours a day. The entrance guard/security station near the parking area will also serve as a welcoming center for incoming participants. Please bring radios, scanners, batteries, flashlights, etc. to be utilized by the security team.
Distro Center, Really Really Free Market, etc.
Although WRFF is completely free and non-commercial, we encourage folks to bring along their distros, as a means of internal movement fundraising and mutual aid. We will also be creating a zine library (stuff to take) and lending library (stuff to borrow & return), so please bring along relevant literature & books (and be sure to mark lending library items for later reclaiming). In addition, we will be creating a Really Really Free Market ("free box" or "free store" area) with extra clothing, gear, and other items for free exchange. These will likely be located in close proximity of one another, near the entrance welcoming center.
Gear & Supplies
Other than first aid & kitchen supplies, we're seeking donations of infrastructural supplies such as extra ropes, tarps, tents, easy-ups, water jugs, water filtration systems, stoves, etc. For an expanded supplies list, see
this year's initial announcement
.
More information regarding safer space & accountability, conflict resolution and management, consent, security culture, etc. can be found in the
initial call-out
.
Well, that's it for now. We don't know about you, but we're getting really excited! It's time to get off the computer, and into the wildwood!
If you have any other questions or suggestions, please feel free to
contact us
or
post on our forums
. We can also be
found on fedbook
.
May the Forest Bewitch You,
The Wild Roots Feral Futures organizers' collective
(PS - Don't forget the post-WRFF
caravan
to the
Earth First! Round River Rendezvous
!)